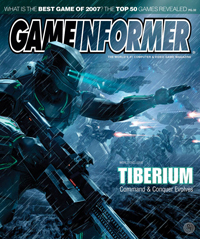 I am very proud to report my involvement in Tiberium...an X360/PS3/PC title that was unfortuntely cancelled after a troubled develoment cycle. For what it's worth, the game's art looked amazing, and I am still very happy to have been able to contribute to such a great looking game...even if it will never come out.
I was a Background Artist on the game, which is basically the same thing as an Environment Artist. My basic workflow went like this: I received concept art, I would recreate it in 3D (3DS Max), create textures for it (Photoshop/Crazybump), then bring it into the Unreal 3 Engine. After this is all done, I would test it out in the game to make sure my additions to the package didn't break the game. Even a simple addition can sometimes break the game, so checking everytime I add something is extremely important.
Additionally, I would sometimes need to clean up some work from an outsourcing company that EA used earlier in the project. This was fairly simple stuff, but it did need to get done. Tri counts need to be lowered, material count needs to be lowered, and sometimes the collision boxes are just a lot more complicated than they need to be, creating memory issues.
Since the game has been cancelled, I did grab some screenshots from the game and put them up on here, with permission of course. Cancelled or not, I am very proud of the work we did on the project, and it was finally starting to show promise in its final days.